Erin Parsons - Beauty Guru
Meet the beauty guru Erin Parsons, Maybelline's global makeup artist
My friendship with Erin began when we worked with Pat McGrath on photo shoots together and we would often share a couch in the studio. Whenever we had downtime, we sat there and had so much fun – lots of laughter and sharing personal stories. She told me about her tough childhood in a small town in Ohio, how she grew up very poor, had lots of struggles and started working when she was 13 years old. She also told me how she started doing makeup and that was what she wanted to do with her life. She was obsessed with Marilyn Monroe, vintage makeup and the glam looks of old Hollywood movie stars like Joan Crawford and Jean Harlow from very early in her childhood.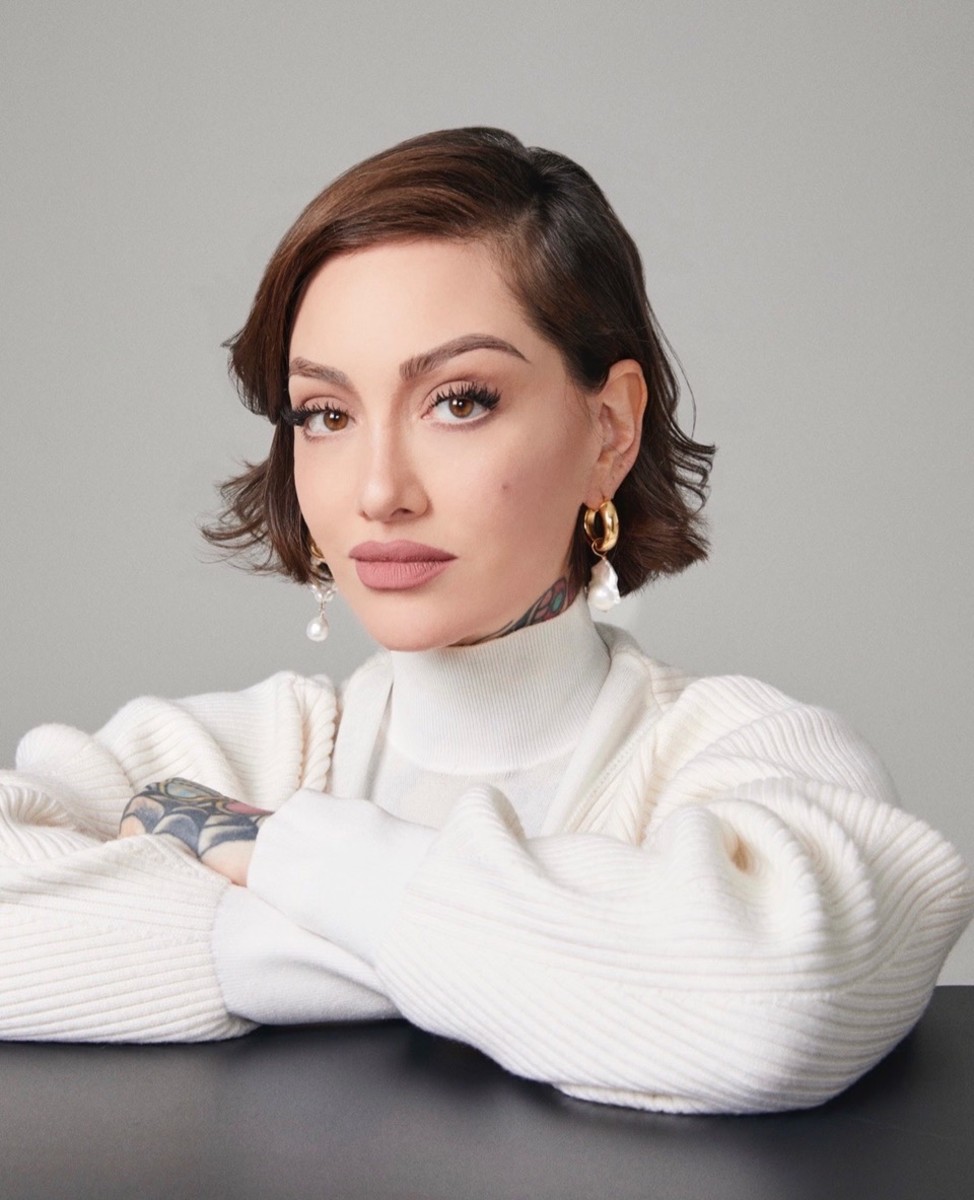 "My outlet was looking at magazines. I remember tearing out the pages and hanging them all over my walls—it was kind of crazy. I was obsessed even then. Since I was 13, I've never not had a job. Working in retail and getting a taste of working with makeup, then coming here, meeting Pat, and now, this…. It's kind of a bit surreal. The whole "make it happen" thing? I feel like I've done that." — Erin Parsons
Shortly after moving to New York, she started assisting top artists—Gucci Westman, Mark Carrasquillo—and three months in, got to work with Pat McGrath. I could tell she learned really fast and was very talented in many different areas. She even helped me with my interviews and gave me some ideas for my products – she has endless ideas and creativity.
"Honestly, I just needed a job when I was 18. I started working in retail—my first ever job being at the Lancôme counter and then the M.A.C. counter. I used to study Kevyn Aucoins makeup books and would try the looks on customers. Occasionally, they would buy every product I used! But I truly never even knew a job like being a makeup artist existed outside of Kevyn."— Erin Parsons
When she worked on Gigi, I could tell that they clicked – they became good friends. Gigi recognized Erin's talent and wanted to help Erin to go to the next level – Gigi was helping her work on Maybelline shoots and with Erin's hard work and talent, she quickly became the brand's global makeup artist. Working with Pat McGrath and meeting Gigi was the big break in her career.
"I met Gigi in about 2014. She was really quiet and had a baby face. I did her makeup and she just transformed. I could sense that she liked it, and I could feel a difference in her attitude. I ended up working with her on a lot of shoots and shows while I was assisting Pat. I'm a Capricorn—Gigi has a saying, something about how all her friends are Capricorns. We just clicked. I genuinely like her as a human being…and I also love putting makeup on her. [Laughs] She's so gorgeous. She recommended me to Maybelline, and one of the pictures we did together, got Maybelline's highest number of likes at the time. So, they kept calling me. I had already put my notice in with Pat, but it was scary to leave!" — Erin Parsons

During the pandemic, while she was working on shoots and creating content, she built her vintage makeup museum/studio in the Lower East Side and pursued her career as an influencer, content creator, vintage collector and makeup artist. I visited her studio and saw her amazing collection of vintage makeup, wigs, books, clothes, and even some vintage nail products – she even gave me vintage nail polish from Revlon!
"My inspiration comes from books, references, eras, art, and many icons in history. There is so much to be inspired by, and I was so obsessed with the idea that a different shaped eyebrow or a red lip could change a person's face. I strive to learn about as many references as possible. I research every day."— Erin Parsons
I have never seen someone who worked so hard and was so driven reach her goal so fast. She started creating vintage makeup looks and classic glam Hollywood looks using new products and vintage ingredients with ancient methods on tiktok and created great content – I was blown away with her capabilities and how she pinpoints her unique style. I knew she was smart and a go-getter but witnessing her career movement was fascinating.
"I [downloaded TikTok] during the Covid lockdown. I started doing some social content around then, so I downloaded the app, and it was another world… I never set out to be an "influencer" or "content creator." I have always been a makeup artist with a passion for vintage beauty. Being able to share that with others who appreciate it as much as I do truly makes me so happy!" — Erin Parsons
She and I got together and created classic glam nails on TikTok, and it provided great insight for me – nails take an important role in creating her content because she shows her nails so much. Her favorite nail colors are JINsoon Vanity, a hot red – no wonder! Moxie, a rosy beige nude for a glam classic look, and Dew for a clean look on her natural nails when she isn't wearing long, almond-shaped nails. Her other favorite JINsoon product is JINsoon Primrose + Honeysuckle healing cuticle oil for her very dry and overused nails. She loves wearing press on tips and constantly doing makeup for her TikTok content.
"I'm in the habit of carrying JINsoon Cuticle Oil in my pocket everywhere I go, so I can constantly moisturize my cuticles and my nails to help them grow. I really really love this oil! I have used this entire bottle. I am actually just wearing little press-on nails right now because I'm trying to let my natural nails grow back in and this is really helping!" — Erin Parsons
Her current goal is to have her own
tv show,
to travel
and
introduce the history
of makeup
from the world and recreate them on her show.
"I don't have a dream client per se… I have a dream job that Involves those clients - I want a tv show focused on makeup history. I'd love to travel the world and then use what I've learned from those places and cultures to transform my famous friends. I dream of turning Gigi into Jean Harlow. I am currently working on pitching this to the network, so fingers crossed!"— Erin Parsons
Her story reminded me of my own story about how we both started from scratch. Moved to NYC with no money (just a dime in her pocket and $400 in mine). We both had to survive and had lots of struggles, but we were driven, worked hard and had original ideas about beauty. Erin is such a go-getter and I respect and admire her for how she came this far and made herself a "brand." I'm also very thankful for her endless support of me and can't wait to see what's next in her journey.
INSTAGRAM: @ERINPARSONSMAKEUP - 579K FOLLOWERS